Welcome To My Boutique!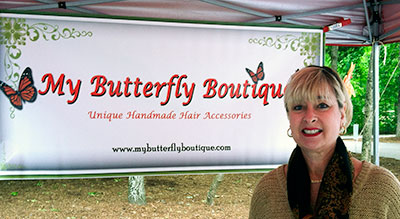 I have always wanted a business of my own. Whether it's knitting, cooking and baking, or just wrapping gifts, I love making things and watching an idea come to life.
I grew up in the North East and taught school after college. The development and creative process of my students inspired me every day. Several years later I moved to South Florida and had the opportunity to work at a brand new Bloomingdales. This was my chance to get in on the ground floor of an exciting and fast paced store. I managed the designer cosmetics and fragrance dept. Over my years there, I was the Promotional Coordinator and finally Branch Buyer. I worked closely with my vendors utilizing my teaching skills and tapped into my creativity with our visual department. The experience was priceless.
Working for a high end, department store opened a window of fashion for me. Since I always enjoyed the trendy looks of the season, as well as the classic style of CoCo Chanel, I wanted to use my skills to develop a business that was challenging, fun, and creative. When I was a young girl I remember the excitement of my mom bringing home new hair ribbons and bows. I had them in colors to match every outfit and loved the completely "girly" feeling of experimenting with different styles. With this in mind, I decided to design and create hand made one of a kind hair bands and hair clips. I have something for everyone, even the littlest fashionista. So whether you have a special event, or just want to pamper yourself, please take the time to look at the many styles I have created. Contact me if you see something you fancy, or let me create that one of a kind accessory for that special day.
Thanks for stopping by!
Karen